Discover our offers and book
Hotel Quality Abaca Messidor Paris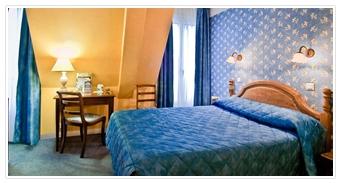 Hotel Abaca Messidor is in the center of the city and is the ideal choice for those travelling to France for business or leisure.

Just a short distance away from the main attractions, you will find yourself in no time at the exposition park, Versailles, the Gare di Montparnasse, the Orsay museum, the church of Madeleine, and at the Opéra.
And at the same time, you will enjoy a peaceful and quiet facility in a traditional style neighborhood, making it very characteristic.
A rare pleasure of this lovely hotel is the garden area where the guests can relax, away from confusion, after a busy day of work or exploring the many attractions of Ville Lumière.

The comfort of the 70 air-conditioned rooms that are tastefully furnished and our courteous personnel at your services 24 hours a day make this hotel truly special.
In the morning you will start off your day with a wide variety of breakfast items served buffet style, the American way with a choice of cheeses, meets, sweets, coffee fruit juice and other beverages.
Give us your Feedback
Quality Hotel Abaca Messidor, 330, rue de Vaugirard - Paris